Features:
– Stroke about 0,62 x platform length
– Up to 20 tonnes payload
– All custom specifications available
– Strong reliable design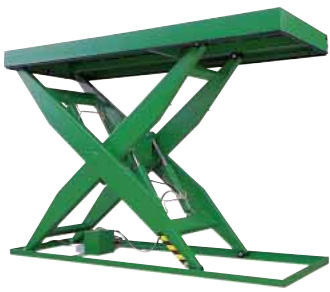 Click here to see the list of standard models
Single scissor, more than 50 standard types!
Flat or tear pattern deck top. The roll over edges are square (not radius) for greater strength, smoother load transfer and flush mounting of handrail, conveyors, etc…
A perimeter safety trip frame is fitted to the undersides of the platform to prevent further lowering should an obstruction be encountered. For added safety, operator reset is standard.
The scissor arms for lift tables up to 3 meters in length are usually profiled solid steel. For larger lifts, steel hollow section is used to provide greater stability. A substantial torsion tube is fitted between the armsets to help ensure good synchronisation and stability even when excentrically loaded.
The 1400-rpm power packs are selected for their exceptional reliability and low noise (<70 dBA).
A built in high pressure filter helps protect the lowering valve from malfunction.
The lowering speed is adjustable on site and is controlled by a pressure-compensating valve.
Standard mains supply 230/400V – III – 50 or 60Hz. Control circuits 24Vdc.
Each lift is protected to IP54 and is ready to use when connected to mains supply and suitably installed. The control station is on 3 meters of flexible cable complete with Emergency Stop and dead man (constant pressure) UP and DOWN push buttons.
Steel posts are provided to mechanically support the platform in raised position to allow access for maintenance purposes.
The steel arm "INA" branded roller bearings and shafts are replaceable.
Features:
– For pallets 1200 x 800 or 1000 mm
– No pit requested
– For light duty use
– Rectangular or U-shaped platform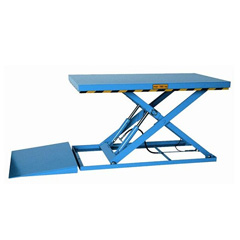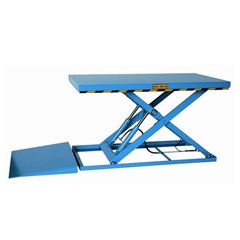 Low Closed lifts
This table is a SEL10-80, down rated to 700 kg for an eccentric load. The supplied ramp allows for Euro-pallet loading by a pallet lifter.
The low closed range can also be supplied with a U-shaped platform, which allows the pallet lifter to drive between the scissor arms with no need for a ramp.
The power pack is always remote at 3m distance.
Type
Length x Width
mm
Lifting stroke
mm
Closed height
mm
Rated capacity
kg
Time
s
Motor
kW
Rectangular platform:
SEL05-80
1400 x 800
700
80
500
10
0,75 s3
SEL10-80
1400 x 800
700
90
1000
20
0,75 s3
SEL20-80
1400 x 1000
700
90
2000
20
1,50 s3
U-shaped platform:
SUEL10-80
1400 x 1100
700
90
1000
20
0,75 s3
SUEL15-80
1400 x 1100
700
112
1500
20
0,75 s3